The Wizard Killer
"This is a world with magic and a political situation similar to the world of Stephen King's The Dark Tower... Wizard Killer contains some of the most well thought out and satisfying magic I have ever read. The magic is subtle, but powerful. The world is harsh but magnificent."
– Readers' Favorite
The Wizard Killer is an adrenaline, binge read, action series that takes place in Adam Dreece's Mondus Inferno world.. Written in an episodic style, this first person, present tense, series has broken the mold when it comes to post-apocalyptic and fantasy stories.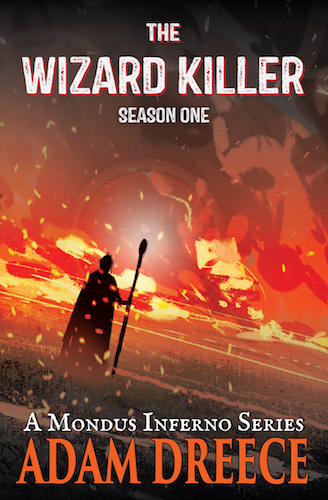 Book 1
"Harry Potter meets Die Hard" – M. Bybee, WereBooks.org
"…an imaginative and compelling series that is quite difficult to stop reading. Dreece knows exactly how to build and then neatly tie up each episode, while leaving the reader wanting more…. highly recommended."
–Reviewed by Jack Magnus for Readers' Favorite, 5 Stars
The world, once at the height of magical technology and social, order has collapsed. How and why are the least of the wizard killer's worries.
Leaning my bloody head against the back of the crashed levitating carriage, I flex my cramped fingers. With a renewed grip on the mana-pistol, I steal a quick breath. The others better wake up fast, otherwise we're all going to burn.
Enjoy the episodic-style, and an all new side to best-selling YA author, Adam Dreece.
ISBN: Paperback – 978-0-9948184-5-4, Mobi/ePub – 978-0-9948184-6-1
Book 2
Kill me with a floating city? You got my attention. But then steal from me and try to burn me alive? You got me thinking.
I think I'm going to find your yigging, walking carcass and introduce it to two friends of mine: pain and vengeance.
By the way, I borrowed a lightning rifle. Don't worry, I'll return it… empty.
See you soon,
The Wizard Killer

Season Two kicks everything up a notch with 22 all-new, action-packed episodes! The Wizard Killer – Season Two picks up where Season One left off.
ISBN: 9781988746012 | Released April 2017 | 168 pages | 5.25 x 8inches paperback
AVAILABLE FROM
Amazon, Barnes and Noble, Kobo, GooglePlay, iBooks, Smashwords, and other fine retailers. Also available as an audiobook on Audible and iTunes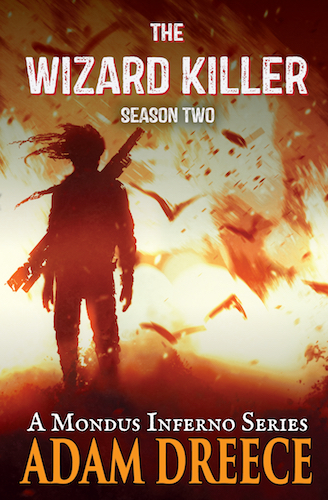 Book 3
The past has a way of catching up with you. The random moments that flash by, the places you don't remember being, the things you shouldn't know but do, they're all pieces of a puzzle you keep ignoring until it's too late.
That's when your heart stops and you realize all the warning signs were there. But now, you're trying to stare down a mad wizard, fire everywhere, hoping Lady Luck's going to help you out one last time. You promise you'll be wiser, that you'll make amends for the things you've done, but in your gut, you know the time's come. Life's about to call your bluff, and the only card you've got to play is pure, raw rage. – Wes
Season Three returns us to the world of Mondus Inferno, and the plight of the man with no name, for the most soul-shattering season yet! As enemies betray their conscience, and allies their convictions, the man without a name finds his past and present on a collision course. Strap in for the next exciting season of the Post-apocalyptic dark fantasy series, The Wizard Killer.
ISBN: 9781988746012 (paperback 5.25″x 8″) 978-1-988746-04-3 (MOBI), 978-1-988746-11-1 (ePub)